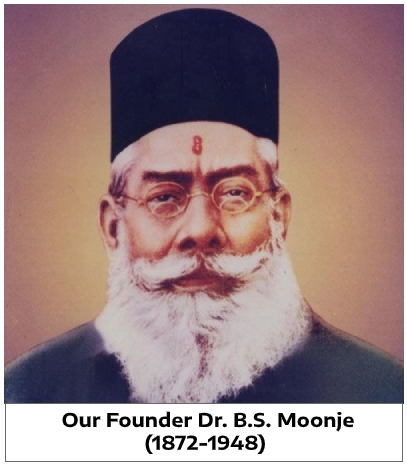 OUR FOUNDER :
Born at Bilaspur (Madhya Pradesh) on 12th Dec. 1872, Dr. B.S Moonje had his school life at Bilaspur and Raipur; and became the Doctor from Grant Medical College Mumbai in 1898


He Participated in Boer war (Africa) in 1899, as a member of medical wing.

He gained recognition as the multifaceted personality, Doctor by profession; well versed in shastras; and vigorously active politician, later named as "Dharmaveer" Dr. B.S Moonje.

His contribution in reference to 'Simon Commission', 'Budget Provision for Defence', 'Social Reform' etc. has been proudly acknowledged by society at large.

Dr. Moonje, obsessed with idea of our youth in forces and civil services to uphold the integrity and sovereignty of our Motherland, landed in Nashik.

In 1935 He established Central Hindu Military Education Society at Nashik at his age of 63 with the aim of Indianisation of Army (Indian Defence) and started 'Bhonsala Military School' in 1937.